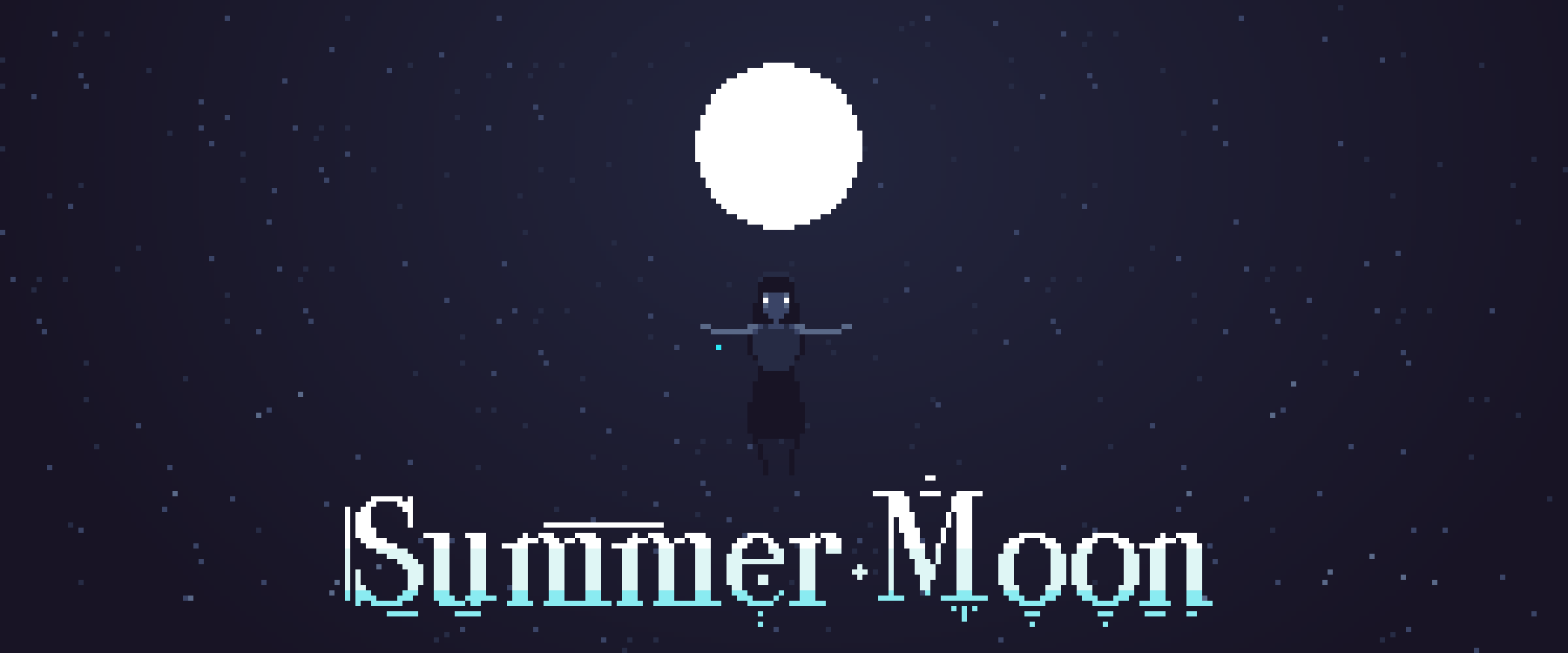 Summer Moon
A downloadable game for Windows and macOS
"In the perfect Haven, the highest virtue transcends beyond even the soul itself." -Oamara
Summer Moon is a 2D stealth-survival horror game.

Play as Lindsay, the ghostly coven witch attempting to free her sisters from imprisonment inside the accursed village, Ikara, all while avoiding being captured by the village's witch-hunting inhabitants.
On 12/08/20, this game received a major update. However, there still may be bugs present. Feel free to leave a comment if you notice any issues with the game.
Features:
Gamepad support.
A six-slot inventory system.
Various items and objects to interact with.
Interior and exterior environments to explore.
AI Enemies which will search for and chase after the player. Enemies may also hide in the environment and ambush the player at times.
Hiding places to stay out of the view of enemies.
Puzzles which involve using items or interacting with objects.
Eerie sound design and 2D lighting used to create a dark, engrossing experience.
Controls:
WASD Keys / Left Joystick - Movement
Arrow Keys / Right Joystick - Shift Camera
Shift Key / L1 / L2 / R1/ R2 - Sprint
Spacebar / East Button / (A) Button - Interact
Tab Key / Select - Inventory
Escape Key / Start - Pause Game
How To Play:
The goal of this game is to rescue all three witch sisters from Ikara Village. In order to do this, you must explore the various environments, locate items, solve puzzles, and hide from patrolling enemies.
When the INTERACT symbol appears above the player, you may either interact with a nearby object or use an item on it by opening the inventory and selecting the item you wish to use.
You may use sheds scattered throughout the level to hide from enemies (so long as they do not see you enter), and you may also look through windows from inside houses to check for enemies before exiting.
The game takes roughly 15-20 minutes to complete.
Download
Click download now to get access to the following files:
Summer Moon v1.05 (Windows).zip
40 MB
Summer Moon v1.05 (Mac).zip
40 MB
Comments
Log in with itch.io to leave a comment.
Hi! Would you be interested in a Spanish translation for this game? If so, please contact me!
A short pixel art horror game about a girl trying to escape a dangerous situation. The few puzzles it has are very basic, but it has a nice atmosphere and a couple of good jumpscares.

I loved the cute pixel art, sound design, story, and gameplay. The baddies actually jump-scared me a few times and I really enjoyed playing. This is really cool and deserves way more views!
Here's our first attempt! Awesome start, and it looks great. I'm looking forward to diving in further when I get a chance!
Hello again, thank you for replying to my previous comments, I tried the game again and after the update it's really not hard to escape the villagers for which I'm very glad, I finished the game and I really enjoyed it, the environment, art style and sound effects were very good, I liked the concept of it, the only thing I'd like say is that maybe if there were a few more dialogues with the sisters in the end of the game when they all reunite beside just the ending screen would have been great but over all it was a short and sweet little game, good work :)